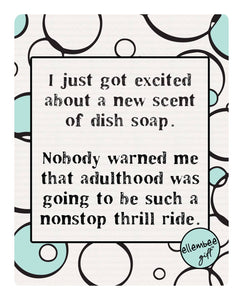 Excited about a new scent of soap funny Swedish dish cloths
Our Swedish dishcloths are sure to be your new fave! They make a perfect cleaning cloth for all household chores. You can use them with cleaners, or with water only. After use, rinse, squeeze and hang over a faucet or lay flat to dry. Each dishcloth replaces 17 rolls of paper towel and can be washed on the top rack of the dishwasher.
You can wash it up to 200 times, and it can be used for 6 to 9 months before it will need to be replaced.
The best part is, it's made in the USA from a renewable fiber blend of 70%. cellulose and 30% cotton! And our Swedish dishcloths measure 7 3/4" x 9 1/4", which is substantially larger (and funnier!) than our competitors!
KEYWORDS: I just got excited about a new scent of dish soap. Nobody warned me that adulthood was going to be such a nonstop thrill ride, snarky dish rags, eco-friendly, instead of papertowel, cleaning dishes, eco-friendly cleaning cloth, dish sponge, homegoods, wet it sponges, swedish dish towels wholesale, swedish dish cloth
---
We Also Recommend